If you are a PhD doctoral or Master's student approaching graduation, then a large research project, dissertation, or thesis is in your future. These capstone research projects take months if not years of preparation, and the first step in this process is first writing a compelling, organized, and effective research proposal.
Check out the key differences between dissertation and thesis.
Research Proposal Checklists Are Important
We've got some good and bad news for the PhD and Master's graduate students out there.
First, the bad news. Research proposals are not easy to write. They require lots of preparation and planning. They can also seem to be an administrative task, with your PhD advisors constantly reminding you to write something that you're not yet sure about. And of course, it's also yet another written document that could be rejected.
Now, the good news. Research proposals help you organize and focus your research. They also eliminate irrelevant topics that your research cannot or should not cover. Further, they help signal your academic superiors (professors, advisors, scientific community) that your research is worth pursuing.
Research proposal checklists go one step further. A research proposal checklist helps you identify what you will research, why it is important and relevant, and how you will perform the research.
This last part is critical. Research proposals are often rejected for not being feasible or being unfocused. But an organized research or thesis proposal checklist can help you stay on topic.
This article goes into the following topics about research proposal checklists:
What is a Research Proposal?
Research proposals are documents that propose a research project in the sciences or academic fields and request funding or sponsorship.
The primary objective is to convince others that you have a worthwhile research project as well as an organized plan to accomplish‌ ‌it.
A main purpose of a research plan is to clearly state the central research topic or question that you intend to research while providing a solid background of your particular area of research.
Your research proposal must contain a quick summary of the current literature, including gaps in your research area's knowledge base as well as areas of controversy, which together demonstrate your proposal is relevant, timely, and worth pursuing.
But what functions does a research proposal perform?:
Research proposals explain your research topic
An effective research proposal should answer the following questions:
What is my research about?
What specific academic area will I be researching?
What is the current scientific and academic literature?
What are the accepted theories in my area of research?
What are gaps in the knowledge base?
What are key questions researchers are currently trying to answer?
Research proposals explain why your research topic is important
A compelling research proposal should answer the following questions:
Why is my research important?
Why is my research interesting to both academics and laypeople?
What are my research questions?
How does my research contribute to the literature?
How will my dissertation or thesis answer gaps or unsolved questions?
How or why would my research earn funding in the future?
How does my research relate to wider society or public health?
Research proposals explain how you will perform your research
A feasible research proposal should answer the following questions:
How will my research be performed?
What are my exact methods?
What materials will I need to purchase?
What materials will I need to borrow from other researchers in my field?
What relationships do I need to make or maintain with other academics?
What is my research proposal timeline?
What are the standard research procedures?
Are there any study limitations to discuss?
Will I need to modify any research methods? What, if any, problems will this introduce?
Research Proposal Example Checklist
Use this research proposal example checklist as an aid to draft your own research proposal. This can help you decide what information to include and keep your ideas logically structured.
Remember, if your research proposal cannot effectively answer every single question below, then you may want to consult your advisor. It doesn't mean your chosen research topic is bad; it just means certain areas may need some additional focus.
Click here for the full Research Proposal Example Checklist in .pdf form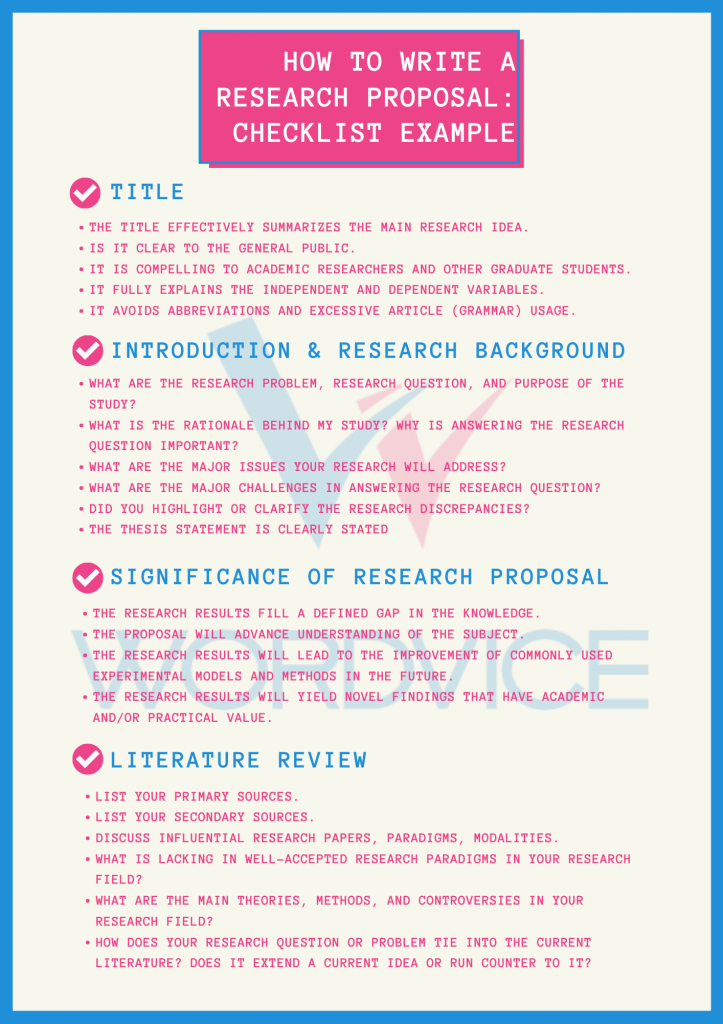 Research Proposal Title
The title of your research proposal must attract the reader's eye, be descriptive of the research question, and be understandable for both casual and academic readers.
The title of your research proposal should do the following:
Effectively summarize the main research idea
Be clear to the general public
Be compelling to academic researchers and other graduate students
Fully explain the independent and dependent variables
Avoid abbreviations and excessive use of articles
Research Proposal Introduction and Research Background
The introduction typically begins with a general overview of your research field, focusing on a specific research problem or question. This is followed by an explanation of why the study should be conducted.
The introduction of your research proposal should answer the following questions:
What is the research problem, research question, and purpose of the study?
What is the rationale behind my study?
Why is answering this research question important?
What are the major issues your research will address?
What are the major challenges in answering the research question?
Did you highlight or clarify the research discrepancies?
Significance of Research Proposal
Your proposal's introduction section should also clearly communicate why your research is significant, relevant, timely, and valid.
To effectively confirm the significance of your proposal, make sure your study accomplishes the following:
The research results fill a defined gap in the knowledge.
The proposed study will advance understanding of the subject.
The research results will lead to the improvement of commonly used experimental models and methods in the future.
The research results will yield novel findings that have academic and/or practical value.
Research Proposal Literature Review
In the literature review section, you should provide a review of the current state of the literature as well as provide a summary of the results generated by your research. Determine relevant theories, methods, and gaps in the existing research to support your research claim.
State an overview and significance of your primary resources and provide a critical analysis highlighting what those sources lack and future directions for research.
List your primary sources.
List your secondary sources.
Discuss influential research papers, paradigms, and modalities.
What is lacking in well-accepted research paradigms in your research field?
What are the main theories, methods, and controversies in your research field?
How does your research question or problem tie into the current literature? Does it extend a current idea or run counter to it?
Research Proposal Theoretical Methodology and Design
Following the literature review, it is a good idea to restate your main objectives, bringing the focus back to your own project. The research design or methodology section should describe the overall approach and practical steps you will take to answer your research questions.
To help you write a clear and structured methodology, use your plan and answer the following issues. This will give you an outline to follow and keep you on track when writing this section of your research proposal.
Explain whether your research method will be a study or an experiment.
Is your research for a PhD dissertation or Master's program?
Explain the theoretical resources motivating your choice of methods.
Explain how particular methods enable you to answer your research question.
Credit any colleagues or researchers you will collaborate with.
Explain the advantages and disadvantages of your chosen methodology.
What is the timeline of your research experiment or study?
Compare/contrast your research design with that of the literature and other research on your topic.
Are there any different or alternative methods or materials that will be used?
Additionally, explain how your results will be processed:
How will your research results be processed and interpreted?
What data types will your results be in?
Explain the statistical models and processes you must perform (e.g. Student's t-test).
Will your study be more statistically rigorous than other studies?
Read about how to explain research methods clearly for reproducibility.
Research Proposal Discussion and Conclusion
Your discussion and conclusion section has an important purpose: to persuade the reader of your proposed research study's potential impact. This section should also directly address potential weaknesses and criticisms put forth by other researchers and academics.
Explain the limitations and weaknesses of the proposed research.
Explain how any potential weaknesses would be justified by extenuating circumstances such as time and financial constraints.
What, if any, alternative research questions or problems naturally can be answered in the future?
How does the research strengthen, support, or challenge a current theoretical framework or model?
References and Bibliography
Although it comes at the end, your reference section is vital and will be carefully scrutinized. It should include all sources of information you used to support your research, and it should be in the correct citation format.
Provide a complete list of references for all cited statements.
Make sure citations are in the correct format (e.g. APA, Chicago, MLA, etc.)
References are present in the introduction, literature review, and methodology sections.
Use the Wordvice APA Citation Generator to instantly generate citations in APA Style, or choose one of the formats below to generate citations for the citation style of your academic work:
Using Research Proposal Examples
Although every research proposal is unique, it is a good idea to take a look at examples of research proposals before writing your initial proposal draft. This will help you understand the academic level you should aim for. Be sure to include a reference list at the end of your proposal as described above.
In addition to reading research proposal examples, you should also outline your research proposal to make sure no crucial information or research proposal sections are missing from your final manuscript. Although the sections included in a research proposal may vary depending on whether it is a grant, doctoral dissertation, conference paper, or professional project, there are many sections in common. Knowing the differences before you draft will ensure that your proposal is cohesive and thorough.
Research Proposal Proofreading and Editing
It's vital to take the time to redraft, edit, and proofread a research proposal before submitting it to your PhD advisor or committee. Researchers and graduate students usually turn to a professional English editing service like Wordvice to improve their research writing.
Our academic services, including thesis editing, dissertation editing, and research paper editing, will fully prepare any academic document for publication in academic journals.