So, you are done with your bachelor's degree but not with studying–according to the U.S. Bureau of Labor Statistics, this seems like a good idea. In its projections for the years 2019–2029, it lists 36 occupations that typically require a master's degree and 63 requiring a doctoral or professional degree. The Bureau of Labor Statistics data also shows that the wages for these occupations are higher than the median for all occupations.
Now you might wonder: What is the difference between master's and PhD degrees and which one should I get? Read on for all the information you need to make this important decision!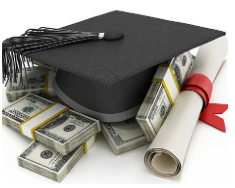 Difference Between Masters and PhD: An Overview
A master's degree is designed to teach you the knowledge and skills that you will need in your future profession. A PhD or doctorate degree, on the other hand, is designed to develop your critical thinking as well as your analytical and writing skills and is usually a years-long commitment to independent research on a specific subject. The purpose of a PhD is to prepare you for a career in academic research—although it can also help you get into a variety of other professions, and at a higher entry/salary level. In the US, a master's degree is integrated into a PhD program, as a necessary preparation period involving mostly coursework, while in most other countries, a separate master's degree is required to enter a PhD program.
If you want to stand out, you should definitely opt for a PhD degree: According to the United States Census Bureau, 24 million people in the US had master's or professional degrees in 2019, whereas only 4.5 million had PhDs/doctorates. But is it worth the extra effort? And what exactly would the extra effort be? Have a look at the table below to get an idea about the key differences between master's and PhDs.
Master's vs PhD
| | | |
| --- | --- | --- |
| | Master's degree | PhD degree |
| Prerequisites | Successful completion of a bachelor's degree | Bachelor's degree (US), master's degree (many other countries) |
| Length of time | 2 years, sometimes shorter (e.g., at some UK universities) | 5–7 years (US), 3–5 years (countries that require a completed master's degree) |
| Structure | predominantly coursework, usually with a culmination project/thesis/final exhibition at the end, sometimes called "capstone project" | 2 years of coursework in the US to make up for the master's, and 3–5 years of independent work on a dissertation |
| Cost | Varies widely by country, university and program; master's degrees at US universities can cost anything from $30,000 to $120,000, while degrees in other English-speaking countries are significantly cheaper (<$40,000), and most universities in Europe have very low (sometimes none at all) tuition fees | While costs for PhD programs can be as high (and vary as widely) as those for master's degrees, PhD projects often come with some level of funding equivalent to a salary and tuition fees are waived in exchange for being a teaching or research assistant |
| Career prospects | Master's degrees usually focus on industry-specific skills for a career outside of academia | Earned on the basis of research that contributes new knowledge to a particular research topic, a PhD prepares you for a research career, inside or outside of universities |
| Expected salary | According to the U.S. Bureau of Labor Statistics, earnings increase from the bachelor's level to the master's level by approximately 18%, while unemployment rates go down, from 3.5% (bachelor's) to 2.6% (master's) | A PhD can increase your salary by approximately 21% compared to master's degree holders, according to the Bureau of Labor Statistics data. The unemployment rate for PhD holders is also exceptionally low, at only 1.5% |
Master's or Doctorate: Which Should You Choose?
| | |
| --- | --- |
| A master's degree is right for you if… | Pursue a PhD instead if… |
| You have a specific career or profession in mind and want to develop the necessary practical skills for that | Your goal is to become a university professor or to dedicate your career to researching at companies/other institutions |
| You are willing to invest more money upfront (since there are fewer scholarship possibilities for master's degrees) to be able to start your career earlier | You are passionate about a specific field or topic and see yourself still being passionate about it in 10 years |
| You have a job and want to study part-time to be able to support yourself or simultaneously gain work experience | You are self-motivated, have solid organizational skills, and are prepared to deal with unexpected challenges along the way |
How Long Does a Master's vs Doctorate Take to Complete?
While the length of time it will take you to complete a PhD or master's degree varies significantly between institutions and countries, we will focus on the US system here. Obviously, PhDs take much longer, because they are in fact a combination of both degrees and involve a long period of independent research that can get even longer than expected, depending on your topic, the available equipment or support, and a lot of other factors.
How long to complete a master's degree
In the US, a full-time master's degree takes students generally 2 years to complete, while part-time degrees are usually double the time.
How long to complete a PhD/doctorate
Since US PhD programs only require a completed bachelor's degree, they start with an integrated master's of 2 years of coursework, followed by 3–4 years of independent research into a specific topic. That usually includes publishing results, presenting at conferences, and preparing the final dissertation. Note that stipends/funding do not always cover the entire time it can take you to complete your PhD project—make sure you are aware of alternative options and additional funding at your institution or have at least thought about a backup plan before you start.
Master's Degree Cost vs. a PhD Cost
Most people assume that PhDs are more expensive because they take many more years to complete. However, since PhD students usually receive scholarships or stipends, sometimes just for their commitment to full-time research and sometimes in exchange for teaching, the direct costs for a dissertation can be lower than those for a master's degree.
Additionally, while you are very likely to earn more with both degrees, the additional years of studying for a PhD should be factored into any estimation of costs vs outcomes.
Cost of a master's degree
Master's degrees at US universities can cost anything from $30,000 to $120,000, with tuition depending on the type of institution (public, private nonprofit, or for-profit). University rankings and general reputation also affect tuition costs.
Whether an expensive degree (e.g., MBAs are often notoriously expensive) is worth the money for you personally depends on what kind of salary you think you can expect after graduating from that specific school. The universities you consider applying to should be able to provide you with data on the career and salary outcomes of their students, either on their website or if you contact them and ask for these details.
You can of course try to get a stipend and/or apply for a teaching or research assistant position at your school, depending on your undergraduate degree and experience. Moreover, many institutions offer the possibility to complete a master's degree part-time, while working, which allows students to fund themselves.
You might also be eligible to transfer credits toward your degree if you have a professional certification or have earned graduate-level course credit—which can significantly reduce your total cost for both degrees.
Cost of a PhD/dissertation
PhDs, unlike master's degrees, are usually funded, which means that tuition fees are waived and stipends or scholarships take care of living costs. Phd students are, however, often expected to take on teaching or research responsibilities in exchange for their funding.
There are a variety of scholarships you can apply for if you want to pursue a PhD in the US as an international student—US-based ones like the Fulbright Foreign Student Program or the HHMI International Student Research Scholarships, but there are probably also funding opportunities in your home country for students who want to embark on a PhD abroad.
Pursuing a PhD degree part-time might sometimes be possible, but since students are expected to invest a full workweek into their research and potential teaching responsibilities, this is usually not realistic.
To estimate the overall cost of a doctoral program, the extra years that you could be working a full-time job with a regular salary also need to be factored into the equation—and take into account that projects may end up taking longer than expected, due to difficulties in collecting data, supervisors dropping out or moving on, or unforeseeable crises such as the COVID-19 epidemic.
Career Prospects for a Master's vs PhD
While both a master's and a PhD degree will qualify you for a variety of occupations that require higher degrees, they can also get you a higher salary in a profession that is also open to employees with a lower education level. PhD holders can in theory expect the highest wages, but since the two degrees prepare you for very different careers, that alone shouldn't be what you base your decision on.
Master's degree jobs and positions
Master's degrees are overall more versatile than PhDs when it comes to employment opportunities and cover a wide range of fields and professions. The most common master's degrees are the Master's of Arts (MA) and the Master's of Science (MS).
Master's programs can generally be divided into three different types:
Research master's degrees, such as an MA in Comparative Literature or an MS in Biology, prepare students for academic and non-academic research disciplines and usually end with a thesis based on an original piece of research. In some fields, however, you are expected to enter a Ph.D. program after completing your master's to be competitive when it comes to finding a job later.
Professional master's degrees teach you practical skills and in-demand competencies that qualify you for a specific field and enable you to understand issues that are relevant in a certain profession. Examples include the Master of Public Health (MPH), the Master of Business Administration (MBA), or the MA in Teaching (MAT).
Terminal master's degrees are the highest academic degree in fields where doctorates are not offered, and prepare students for careers outside of academia. The Master's of Fine Arts in Creative Writing, for example, or the MS in Library Science are as high as you can go in those fields.
To give you an idea, below, we listed the 10 occupations at the master's level that are projected to have the most openings annually from 2019 to 2029, according to the U.S. Bureau of Labor Statistics, and the highest-paying occupations for master's degree holders without required work experience, based on projections from 2016 to 2026.
| | |
| --- | --- |
| Most openings 2019–2029 | Highest wages 2016–2026 |
| Lawyers | Nurse anesthetists |
| Counselors | Political scientists |
| Health specialties teachers | Computer & information research scientist |
| Nurse practitioners | Physician assistants |
| Education administrators | Nurse practitioners |
| Healthcare social workers | Mathematicians |
| Postsecondary teachers | Economists |
| Instructional coordinators | |
| Physical therapists | |
| Speech-language pathologists | |
Master's degrees, apart from helping you develop professional skills tailored to the requirements of the profession you intend to enter, can also serve as a stepping stone if you are already in employment and want to progress your career development, earn a higher salary, or change careers by learning new skills and subject knowledge.
PhD/doctorate jobs and positions
PhDs are usually intended to lead to an academic career, and many students aim to eventually become university professors. However, careers in academia are highly competitive, and there are not nearly as many professor positions as there are PhD holders. The good news is that the skills you learn during your doctoral program are often "transferable" and can be applied to other types of careers.
Some PhD graduates end up (and enjoy) being colleague teachers, while others embark on non-academic research careers, for example at pharmaceutical companies, government agencies, consulting and technology firms, or think tanks. Job prospects vary widely across fields, with some—computer science, engineering, or economics—having very low unemployment rates, and others, for example the humanities, offering fewer and less desirable employment opportunities. Keep in mind, however, that someone with a PhD entering a different field or one that does not necessarily require a PhD may find that their degree sometimes does not help them or that they are even considered to be "overqualified" or as lacking practical skills and relevant professional experience.
Since there is no clear career path for PhD graduates, you should really take your time figuring out what field you want to work in later, what the career prospects for that field are, and if they are worth the time and effort you will have to invest to complete a PhD program. Your university should have data on the careers and salaries of their students, and should either display these details on their website or send you the relevant information if you contact them directly.
Master's vs PhD: Application Process
The application process for master's and PhD programs is overall very similar. In general, you will need to provide the following:
| | |
| --- | --- |
| Master's application | PhD application |
| Application essay/personal statement/statement of purpose, either as a response to specific prompts provided by the school or as an outline of what you learned during your undergraduate studies and how you will use this experience to make a success of your advanced qualification | Statement of purpose focusing on research you have already done/participated in, publications you have authored so far, and your research interests/future academic career plans |
| Letters of recommendation from former professors or research supervisors (for research master's) or current work supervisors (for professional degrees) | Letters of recommendation from former professors or supervisors (preferably supervisors who themselves hold a PhD) who have something to say about your potential as a researcher |
| CV/resume that summarizes your academic, professional and personal achievements | CV/resume focusing on your research background (your bachelor's thesis/ publications/presentations) |
| Bachelor's degree certificate and academic transcripts | Bachelor's degree certificate and academic transcripts |
| Proof of English proficiency (unless you have already completed a degree in English) if English is not your first language (IELTS, TOEFL, PTE Academic, etc.) | Proof of English proficiency (unless you have already completed a degree in English) if English is not your first language (IELTS, TOEFL, PTE Academic, etc.) |
| Standardized test, e.g., the Law School Admissions Test (LSAT) for law school or the Graduate Record Examination (GRE) or Graduate Management Admissions Test (GMAT) for business school | Standardized test, usually the Graduate Record Examination (GRE) |
Frequently Asked Questions about Master's vs PhD Degrees
How long does a master's degree take vs a PhD?
Full-time master's degrees usually take 2 years to complete. Many universities offer the option to do a master's part-time, which takes double the time. PhD programs in the US start with an integrated master's of 2 years of coursework (since you enter the program directly after completing your bachelor's degree), followed by 3–4 years of independent research.
Is a PhD harder than a master's degree?
A PhD takes substantially longer and requires more self-motivation, organizational skills, and the willingness to carry on even when things do not go according to plan. You might also have other responsibilities, on top of your research, such as teaching or assisting your supervisor. But whether that is "harder" for you than a master's degree that consists of mostly coursework and does not take more than 2 years depends on your interests and general working style.
Is a master's or doctorate better?
Master's and doctorate degrees prepare you for different occupations and work positions, and which one is the right for you depends on what kind of career you are planning to pursue. Generally, a master's degree is right for you if you want to deepen your career-oriented knowledge and skills for a specific profession, while a doctorate degree prepares you for a career in research, whether that is inside or outside a university.
Preparing Your Graduate School Essays
Now that you have figured out whether a master's or PhD degree is the right choice for you, all that is left to do is to put your application together! Make sure that you focus on your chosen degree and its aim (research or a professional career) in all required documents—for example, highlight your professional and personal development in your CV for an MBA program, but the publication you got out of your bachelor's thesis and how passionate you are about doing more research on the same topic for your application to a PhD program.
As always, Wordvice can help with our professional Personal Statement Editing Services or Admission Editing Services, which help ensure that your application is error-free and showcases your full potential so that you get admitted to the graduate or doctoral program of your choice. For more academic resources on writing the statement of purpose for grad school or on how to request a letter of recommendation, head over to our Admissions Resources pages.
Wordvice Business & Writer Editing Services
After landing that sweet job position when you finish your graduate degree, be sure to get English editing services for any of your crucial documents before sending them to colleagues, clients, or users. Check out our list of business editing and writer editing services below.